Hex Socket Head Cap Screw 0-80 1/8"
Brand: MAXX
Product Code:

U08018HCS

Availability:

In Stock
Product Information
Hex Socket Head Cap screws are ideal for precision work with close tolerances suitable for building models and applications that require a well tooled appearance.
This screw has a recessed internal hex socket drive with machine screw threads. Made of heat-treated alloy steel.
| | |
| --- | --- |
| | Includes |
| | 2 x Hex Socket Head Cap Screws |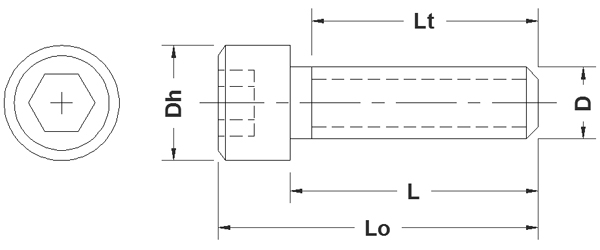 | | |
| --- | --- |
| | Head Diameter: Dh=0.0945" (2.4mm) |
| | Thread Diameter: D=0.0585" (1.49mm) |
| | Thread Size/Pitch: 80TPI |
| | Thread Length (under head): L=1/8" (3.175mm) |
| | Overall Length: Lo=0.1755" (4.45mm) |
| | Head Type: Hex Socket Cap |
| | Thread Type: Unified National Fine |
| | Thread Direction: Right Hand |
| | Finish: Nickel Plated |
| | Material: Alloy Steel |
| | |
| --- | --- |
| | Features |
| | Heat-treated alloy steel |
| | Internal hex socket drive |
| | Machine screw threads |
| | Close tolerances |
| | Nickel Plating finish |
| | |
| --- | --- |
| | Weight |
| | 0.07 grams/each |
| | |
| --- | --- |
| | Usage |
| | Use for building models and applications |
| | |
| --- | --- |
| | Requires |
| | Hex Key/Allen Key size: 0.05" (1.27mm) |
| | Loctite (#242 is recommended) is required to apply to all mechanical screws for safety |
| | |
| --- | --- |
| | Instruction |
| | N/A |
DATA UNIT CALCULATOR
| | |
| --- | --- |
| Temperature | (Celsius - Fahrenheit) |
| | |
| --- | --- |
| Length | (Millimeter - Inch) |
| | |
| --- | --- |
| Force | (Kilogram-force - Newton) |
| | |
| --- | --- |
| Torque | (Kilogram-force Centimeter - Ounce-force Inch) |
| | |
| --- | --- |
| Energy | (Joule - Foot-Pound) |
| | |
| --- | --- |
| Speed | (Meters per Second - Feet per Second) |
Kinetic Energy & Shooting Range
Reviews (0)